A mom-of-two shared her family situation to Mumsnet, under username PaddlingLikeADuck, as she revealed her husband works full-time and she works 25 hours a week, spread over three days.
She decreased her hours to their current level after their second son was born, but prior to that she always worked full-time.
Their children, who are eight and four, will both be out of the house during the day soon, with the youngest beginning school this September. Consequently, PaddlingLikeADuck decided to start working four days a week in her job as a nurse.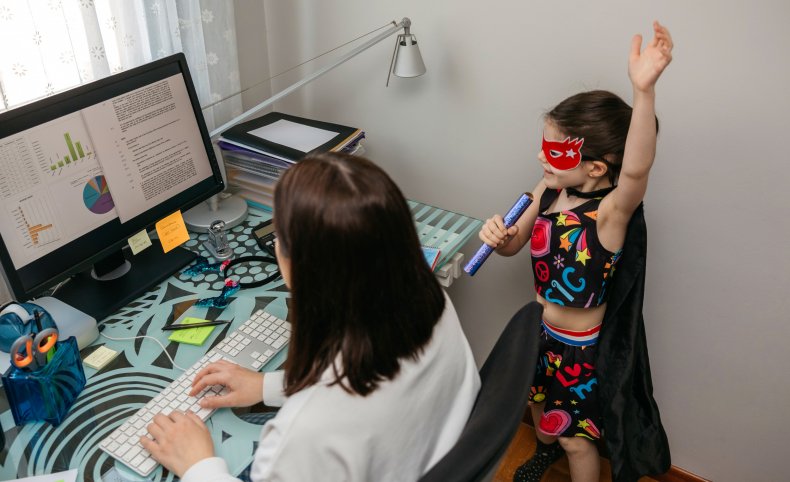 "As it stands, my plan is for me to work 4 days a week (8 hour days) and have one day off in the middle of the week," wrote PaddlingLikeADuck, who is believed to be based in the U.K.
"My husband however is being really pushy about me working full time as opposed to 'just working 30 hours.'"
But they're not short of cash, as she claimed their joint take-home pay per month is a little under £4,000 ($5,069), which will be going up to just below £5,000 ($6,336) when her hours increase in August.
Sharing her position, the mom wrote: "I said it will really help us with me having one day off a week because if anything untoward comes up, one of the children takes ill, appointments come up, school assemblies etc I have the option to change my days to accommodate this. I'm very lucky to have a job where I can be very flexible with my days."
She told her husband she'll hardly be "a lady of leisure" working 30 hours a week, and looking after two kids. The mom said her husband works from 7.30 a.m. until 3.30 p.m., with his job in a school paying £51,000, ($40,222) and hers £32,000 ($25,237), pro-rata for 30 hours.
And there's another reason she wants a day off, explaining: "As it stands, he is home by 4 p.m. most days whereas my work days means I'm not home until 6.30 p.m., if not a little later. This would mean that me working 5 days a week will result in me hardly getting any time in the evening with the children whereas my husband would spend every evening with them from 4 p.m. onwards.
"He also works in a school so he gets all the holidays off which again means he gets lots of quality time with them that I don't. And one day a weekend they go out together for about 6 hours for a sport related event, so that's more time that I'm not with them.
"I said that I just want to be able to spend at least one day in the week to see my children, and to be able to collect them from school and have some quality time with them, as opposed to not getting home until an hour before their bedtime every night."
Despite her reservations she said he keeps "pushing" the issue, as she continued: "I said I don't understand why, for the sake of me working 7.5 hours less than full time, he would begrudge me wanting to spend more time with the children.
"I get it that if I financially had to work full time for our family situation to be manageable then I would, but I don't and we manage perfectly fine already, never mind after my upcoming promotion and increase in hours."
She claims her other half is very "money focused," and keeps reiterating: "Think how much more money we would have if you went full time."
It boils down to his priority being finances, and hers being the children, leaving them "in a mini argument where we just go round in circles."
Her dilemma, posted on Sunday, has amassed more than 350 responses, with people siding with the mom.
Nix32 thought: "It's not even a day off, is it—it's 6 hours while the children are at school. Just about time to run errands, hoover round and catch your breath. Absolutely stay at 4 days."
MarshmallowSwede asked: "Why doesn't he get a better paying job if it's so important to him?"
Topseyt123 thought: "30 hours a week is hardly much off full time anyway. Stick to your guns. You are fine as you are. Tell him he needs to get his head out of his a**e."
Monicagellerbing reckoned: "He's a money grabbing t**t. 5k a month is plenty ffs."
The chart below, provided by Statista, examined the traditional 9-5 in 2022.
RandomMess pointed out: "So you actually are employed for a similar number of days over a year aren't you though because he gets so many weeks annual leave?"
Aberration joked: "I vote for telling him you'll go full time if he gets a summer holidays job."
In contrast, MalbecandToast wrote: "Sorry but I'm with your husband on this, with children that age I would expect you to be full time too really. Weekends are there for quality time with the children."
The U.K. Office for National Statistics (ONS) said that from April to June in 2019, 75.1% of moms with dependent children were in work. This was compared to 92.6% of dads.
Women were more likely to work less, as 28.5% of moms with a child aged 14 years and under reported they'd reduced their working hours due to childcare. This was compared to 4.8% of fathers.
The ONS pointed out: "The proportion of parents who faced an obstacle fulfilling responsibilities decreased as the age of the child increased; from 34.9% of parents whose youngest child was aged between 0 and 4 years to 20.4% of parents with a child aged 11 to 14 years."
================

Source link