Commenters on a viral video were torn after a Goodwill employee was filmed removing multiple pairs of Nike and Off-White sneakers from a donation bin.
Posted by TikTok user @fozzyozzyy, the clip has been liked more than 193,000 times and has received 5,288 comments.
Captioned, "The goodwill workers really took 4 pairs of off white sneakers out of a bin and took them to the back," the TikTok shows a Goodwill employee removing multiple pairs of sneakers from a bin and walking away. While the caption specifies that the employee removed four pairs of sneakers, the exact models of each pair are unclear — but two pairs included in the viral video are seemingly identifiable.
One pair appears to be an Off-White Nike Air Presto in the sneaker's black colorway. The other appears to be an Off-White Air Jordan Retro 1 High in the sneaker's Chicago colorway. Both sneakers were part of Virgil Abloh's first line of ten Off-White Nike models in 2018. Abloh, who founded Off-White and served as artistic director for Louis Vuitton's menswear collection, died on November 28, 2021.
According to StockX, a leading sneaker reselling site, the 2018 Off-White Nike Air Presto resold for an average price of $946 over the last 12 months. The 2018 Off-White Air Jordan 1 Retro High Chicago resold for an average price of $6,133 during the same period.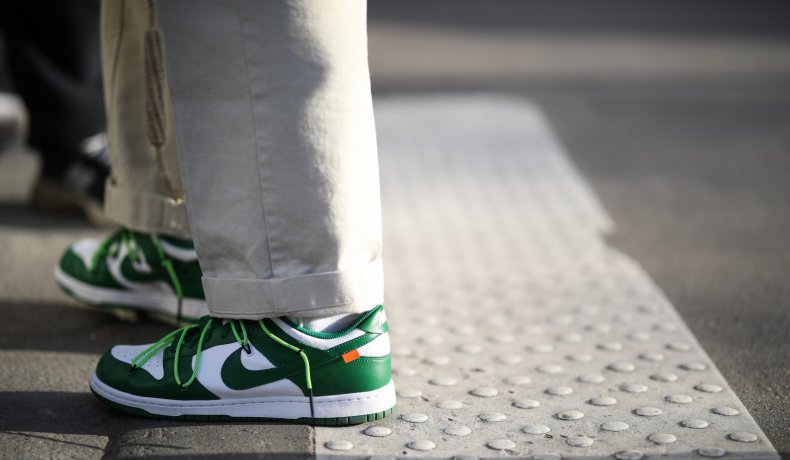 Responding to the viral TikTok, user @diangelessss speculated that the employee who removed the sneakers did so to keep them for himself, and to turn a profit.
"…and the person who donated those thought they were helping the less fortunate…," they commented. It has been liked over 6,500 times.
Many commenters echoed similar sentiments, calling out the Goodwill employee for allegedly taking the sneakers for themselves. But in a comment that has been liked nearly 2,000 times TikTok user @alyssaaclarke suggested another possibility.
"100%," they commented, agreeing with the TikTok's caption. "Because Goodwill has a website for bidding on their items to raise money."
In addition to 3,200 retail stores across the United States, customers can purchase clothing and other items donated to Goodwill on the nonprofit's digital platform, ShopGoodwill.com. Like on eBay or any other auction platform, customers are able to bid on products ranging from jewelry and electronics to office supplies and musical instruments. As of 2018, Goodwill reported that its online shopping service had generated more than $515 million in sales since ShopGoodWill.com launched in 1999.
Goodwill's mission statement includes the nonprofit's intention to "enhance people's dignity and quality of life by strengthening their communities, eliminating their barriers to opportunity, and helping them reach their full potential through learning and the power of work."
Amid a sea of comments accusing the employee of removing the sneakers from the bin to somehow benefit himself, other TikTok users commented that they would have done the same thing themselves, or that other commenters have no idea what the employee was doing with the sneakers.
Multiple commenters wrote that Goodwill employees should get to choose from donated items, while others threatened to never donate to Goodwill or shop there again. However, in a comment that has been liked over 13,000 times, one TikTok user who claimed to work at Goodwill attempted to explain what is actually going on in the viral video.
"I work at a Goodwill," they commented. "They make us take 'expensive' items and move them to a different box in the back, so the company can resell them online."
Newsweek reached out to both Goodwill and TikTok user @fozzyozzyy for comment.
================

Source link