Alfa Romeo driver Valtteri Bottas is thriving in his new role as a team leader on the Swiss-based team. He has been one of the most impressive drivers on the grid in the season's first five races.
ADVERTISEMENT
Article continues below this ad
Although the F1 fans worldwide truly appreciate his time alongside Lewis Hamilton in Mercedes, it looks like leaving Mercedes has worked out for the best for the Finnish driver. Interestingly, he has also hired another former Mercedes employee who had some issues with his former teammate.
ADVERTISEMENT
Article continues below this ad
Bottas has hired former Mercedes photographer Paul Ripke as his own photographer this season. The photographer's Instagram page is full of pictures he took of Valtteri during race weekends this season.
Ripke has known the Alfa Romeo driver for some time, as Mercedes employed him for 4 years from 2016 to 2019. But he left the team at the end of the 2019 season after reporting unhappiness and a fallout with Hamilton.
F1 photographer reports fallout with Lewis Hamilton behind his departure from Mercedes
Ripke had taken some iconic pictures of the German time in their dominant Turbo-Hybrid era. He was present in the park ferme when Nico Rosberg won his world championship in 2016. But Paul handed in his resignation with the German after revealing he was unhappy with the working environment and a fallout with the 7-time world champion.
ADVERTISEMENT
Article continues below this ad
"My first race after the summer break was in Monza. I tried to do some things differently. That did not work out well everywhere. Then came Singapore and Mexico and at some point I realised that I was unhappy and did not want to be the team photographer anymore," said Paul.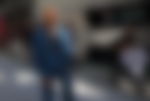 "This year is not easy with Lewis. He does not really know what he wants or what he should do with social media. And if he doesn't know that, then I'm not quite right for him. The relationship is not what it once was," said the F1 photographer.
ADVERTISEMENT
Article continues below this ad
WATCH THIS STORY: Toto Wolff Swears, Valtteri Bottas Bares: Funniest Moments From Drive to Survive
It is great to see Paul back in the F1 paddock doing what he does best alongside the Finnish driver. But it would be interesting to know if he has had any run-ins with the 7-time world champion since his return.
================

Source link