A now-viral video that shows a 14-month-old baby being thrown into a pool as part of a "surprise float test" has caused a divide among commenters.
The video was posted to TikTok on March 11 by the baby's mom, Simone Christensen, who wrote: "I know it looks scary but because of these classes she can save herself in an emergency!" The post has garnered more than 52 million views and over 4 million likes.
It also received roughly 62,000 comments from viewers, who couldn't agree as to whether or not babies should be subjected to float tests.
"Watch my 14-month-old pass her surprise float test," read the video's text overlay.
In the video, an adult takes Christensen's daughter, who is fully dressed, and throws her into a pool. However, the toddler is left to fend for herself, even though she was supervised.
Within a few seconds, the child manages to get her head above water, but accidentally flips backward and gets stuck upside down. Eventually, the child floats to the surface of the water on her back.
Some of Christensen's commenters criticized the float test, calling it "wrong."
"Wrong wrong wrong on sooo many levels," wrote lyndsey.jt.
"Bro that's fighting for your life, that ain't no lesson," said Franko Deita.
"ABSOLUTELY NOT," commented Jade Blanchard.
"She's a baby for god's sake. How do [you] expect her to know what the h**l is going on and what to do or what to understand?" asked Rachel.
In response to the backlash, Christensen explained that her daughter had completed five months of swimming lessons prior to the test.
"Y'all really don't seem to get the part where this is a ONE TIME test after 5 months of normal lessons," she wrote in the post's comments section.
According to the American Academy of Pediatrics (AAP), "[a]ll parents and children over 1 year old should learn how to swim."
"Your child should learn basic swim skills: entering the water, coming to the surface, turning around, propelling through the water for at least 25 yards and being able to exit the water," said the AAP. Though swimming lessons won't make any child "drown-proof," they can add "a layer of protection" for children, including those who are at a higher risk of drowning.
When it comes to surprise float tests, however, Dr. Andrew J. Bernstein, a pediatrician and fellow of the AAP, said he doesn't think these tests are "safe or advisable" for babies.
"[T]here is a significant risk [of] water getting into the lungs if a baby doesn't hold his or her breath for long enough, or at the right time," Bernstein told Fatherly. "This can lead to a lack of oxygen to the brain, pneumonia, or death."
Newsweek reached out to the AAP for updated guidance, but did not hear back in time for publication.
Still, some commenters applauded the float test.
"Great class for babies it could save [their lives]," said nomore.
"Great job parents. If she happens to fall in while you're not there, she'll know what to do," wrote Vetteygirl00.
Self-proclaimed ER nurse, how_bri_sees, added: "[T]his could save so many kids. Start them early."
Newsweek reached out to Christensen for comment, but did not hear back in time for publication.
Christensen isn't the first mother to go viral for a divisive parenting decision. In November, a mom sparked a debate online after sharing that her 10-year-old daughter had never gone to school. Also in November, a mother went viral on TikTok after sharing that her baby's bedtime was midnight. And in 2019, a debate ensued in the comments section of a video that showed a teen holding I sign that read, "I Lied," in a busy Florida intersection.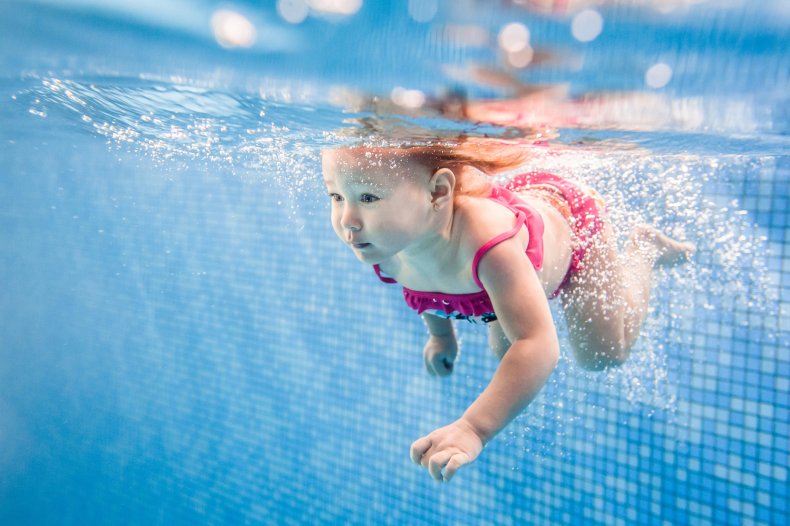 ================

Source link