From John Wayne Gacy's infamous clown self-portrait to "haunted" dolls, some objects just seem to have a life of their own.
Now added to that pantheon is a painting is causing a stir on Reddit, with users unable to decide if the artwork is a masterpiece or the stuff of nightmares.
User FreeWeed4All shared the unusual picture to the r/Weird subreddit (view it here), where it quickly went viral, amassing over 30,000 upvotes and more than 1,000 comments in just 12 hours.
In the post, shared on May 4, FreeWeed4All, wrote: "Neighbors were evicted and as I was walking past their stuff, I couldn't help but notice this."
The attached image features fast food icons Ronald McDonald, Wendy, Colonel Sanders and Annie—the fictional TV spokesperson for Popeyes Chicken, played by award-winning actress Deidrie Henry. In the painting, the foursome is sitting around a table at a McDonald's restaurant, saying grace before dinner. In front of each of them is a meal from their respective chains.
Redditors didn't know what to think of the image. Many loved it, with Dr_Mantis_Teabaggin claiming: "This should be in the Louvre."
CaptWyvyrn said: "This is a masterpiece."
Gee_Hiroshi agreed, commenting: "it's so beautiful i could stare at it for hours."
Celestiaequestria was so impressed, that they published a four-paragraph analysis of the artwork.
They wrote: "This might be the single greatest painting in human history.
"While it initially seems tame, happy even – a family moment of prayer – deeper investigation reveals a sinister reality. The McDonalds where the four are dining is closed, an old promotional poster hangs in the window, but this store is set for renovation. A table has been set with a tablecloth and glass topper, outside furniture. A vintage sports car, cherry red, driven by Ronald himself, sits in the parking lot, no other customer cars visible.
"Each person has brought their own food, none of them would really trust the others of course, and besides, to betray their own franchise, to risk being seen eating another's food? In prayer we see Wendy and Ronald have an eye slightly open, carefully watching as they say grace.
"The quarterly meeting of the four family's chains has begun."
User HornetKick identified the painting as "Say Grace" by Chicago-based artist Malachi Wright. Despite only being 20-years-old, the UCLA student has already sold works to celebrities including Young Thug, Will Smith and Martin Lawrence. His works are known for their unusual take on pop culture, with other pieces featuring notable black women from history and a boxing match between Marvel characters T'Challa and Killmonger.
Although the artwork received plenty of praise, others found the painting disturbing, with bonafidebunnyeyed wondering: "Why does it look like they're channeling energy to their food? We watching a transformation here?"
Glytterain commented: "I'm scared."
Bebop_cola21 said: "That's fuckin weird."
Seafea suggested it was a "fast food seance."
While Hairinmya*** wanted to know: "What in the Cultish fuck is dis."
Prior to the outbreak of COVID-19, there was an average of 1 million evictions a year across the US. During the pandemic and the corresponding lockdowns, evictions were halted to curb infections and support those struggling financially. But as federal programs that assist landlords and tenants come to a close, eviction notices are rising sharply.
Some users suggested the painting was the reason FreeWeed4All's neighbors were forced to leave their home.
Vedic_burns said: "This is why they were evicted."
The_Observatory_ added: "Yeah, I probably would have evicted them, too."
But the big question everyone wanted answering was "where is the Burger King?"
Few-Assistance2717 said: "The king is noticeably absent."
CapitolGee34 asked: "Can't break bread with the king?"
To which Hyero replied: "Who do you think is taking the photo."
Newsweek has reached out to FreeWeed4All for comment.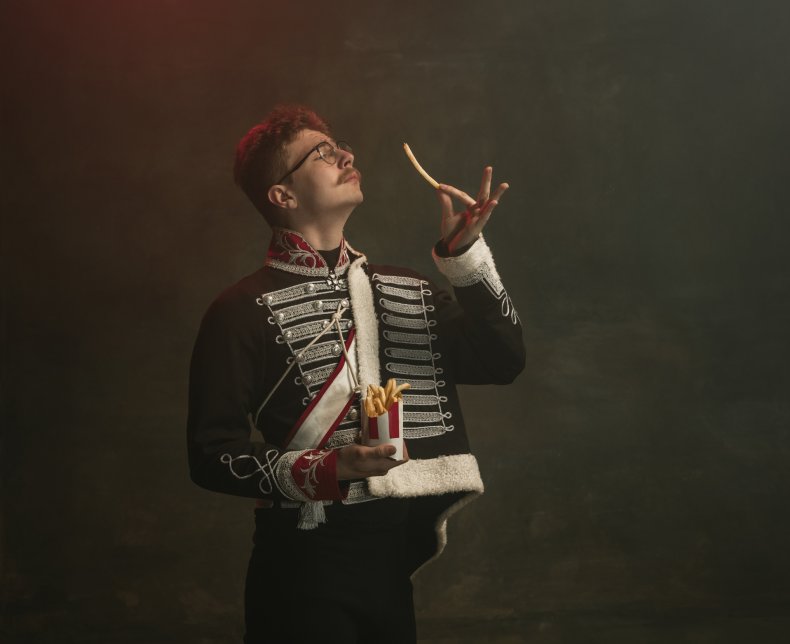 ================

Source link