Who would you like to see running for president in 2024?
This question, when posed as a Reddit thread, gained more than 14 thousand comments. And filtering through thousands of sarcastic comments and endless jokes, one thing seems pretty clear: the internet has a better idea of who they don't want to see as a presidential candidate rather than who they'd like to see running for the highest office in the country.
"No celebrities, please!," said one. "No tech billionaires," said another. "Anybody not owned by corporations," said a user, echoed by another saying "somebody who isn't accepting money from billionaires and corporate interests."
But from the declarations of what users don't want emerge a pretty clear picture of what most Reddit users wish for: a younger presidential candidate.
"Somebody under 70," said one.
"Someone in their 40s for a change, that actually has a brain and the people's interest," said another user. "I'm tired of the 70+ generation that is 100% out of touch. And there are plenty 40+ politicians that are self-serving too. That's the problem."
Actual names of potential candidates were few and far between, but the same few seemed to be repeated and received quite a bit of support on the platform.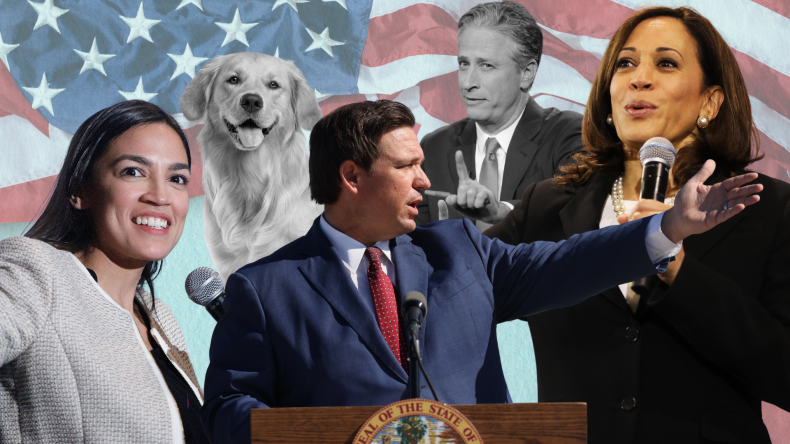 California Representative Katie Porter, the first Democrat to be elected to represent the district back in 2019, was named by a few users.
"Katie Porter seems to know her s***. And she's under 120 years old," said one user. "Smart, fearless, when she speaks you understand her and she's not in her 70s," said another, in another dig at the country's latest two presidents, both in their mid- to late 70s.
"Educated, can call corporate on their shenanigans quite effectively with her white board, exhibits a good understanding of the world around her and, most importantly, she's 48 years old with 3 young kids so hopefully, her focus would be more future oriented with them in mind," said another user who said would vote for Porter for president.
Porter, 48, has never so far mentioned wanting to run for president.
As another Democratic candidate, many wished for 32-year-old Alexandria Ocasio-Cortez. Some wondered whether Ocasio-Cortez will meet the age requirement necessary to run as candidate—which is a minimum of 35—in time for the start of the electoral campaign, but that shouldn't be an obstacle to a potential AOC presidential run.
The Congresswoman has the support of two-time presidential primary runner-up Senator Bernie Sanders, and she's not considered such a far-fetched potential candidate for 2024.
But many on the Reddit thread replied that they could not see AOC winning at the White House, despite her capacity to inspire younger voters.
Although celebrities were not supposed to be named, many suggested comedian Jon Stewart as 2024 presidential candidate, with one such comment getting the support of 890 other users.
"Jon's not perfect but I've always admired him for his dedication to calling out bullshit and presenting a viable solution. He's challenged all sides of America at some point and I respect him," another user replied. "Hard to see him in that high of a leadership role but I would love to see him in more direct and active positions. He's the right kind of influence for our nation."
Another replied that exactly for that reason, Stewart is unlikely to run for president.
The names of Maryland's Representative Jamie Raskin, lieutenant governor of Pennsylvania John Fetterman and governor of Kentucky's Andy Beshear were also made for the Democrats' side. A couple of people called for Sanders to run again.
"I'm just going to say Andy Beshear, the current governor of Kentucky. He had only been in office for 3 or so months when the pandemic hit and for the most part he handled it very well, while also bringing a lot of transparency to the office, doing a great job working to unify the state as best as he can, and he seems like a genuinely good person," said one user.
"I'd be happy to see Pete Buttigieg vs. Nikki Haley, but I think we're going to get Kamala Harris vs. Ron DeSantis," said another.
Most users said they couldn't imagine Vice President Harris running for president in 2024, mentioning that "you hardly hear her mentioned at all" while one user said it would be a "disaster."
On the Republican side, some mentioned former governor of Michigan Rick Snyder and Illinois Representative Adam Kinzinger.
"The guy has gone through hell and back because he has stuck up to what is right and not what his party thinks," said one user talking about Kinzinger. "He seems like he's someone that might actually curve some of the endless polarization," said the same user, who admitted being "Reddit ancient" at 46 years old and not voting for the Republicans in over ten years.
There were, obviously, mentions of President Joe Biden and former president Donald Trump possibly running again in 2024.
"What you are going to get is trump/desantis vs biden/harris," one user responded. "While I hate the idea, trump/desantis will win. this will pave the way for desantis in 2028."
Most users responding to the thread were not enthusiastic about the idea of the same candidates running again against each other in the next election.
There was no lack of jokes on the Reddit thread either, of course.
One user suggested that a presidential candidate for 2024 should be "our one true god, Nicolas Cage." "Jimmy Carter would be kind of funny," said another, mentioning the 39th president. Santa Claus, Queen Elizabeth, Eminem and Kanye West also received a mention. "A golden retriever," said one user.
"My uncle Randy. He died in the nineties so it would be amazing to see him again," said one user.
"Senator Palpatine seems like a good, honest and well intentioned man who loves our country," one said.
One of the most popular comments on the thread was one commenting on the lack of constructive suggestions among users. "I think it's quite telling of how bad the current political landscape is that most people responding in this thread can only give conditions of things they wouldn't want to see anymore rather than actual candidates," one user said.
"This is really nothing against the people in this thread though because honestly I can't think of a truly good candidate I'd want to see running either. It just shows how s****y our options are."
What Are The Odds?
As of today, betting odds still see Trump as the most popular among all possible candidates in the presidential elections, with ​​Betfair, the world's largest online betting exchange, putting Trump's odds of winning the election at 10-3, while Biden's odds are at 9-2.
Harris and DeSantis, mentioned by Reddit users, have odds of 5-1 and 8-1 each on Betfair. Haley, also mentioned on the Reddit thread, has odds placed at 16-1, while Buttigieg's are at 20-1.
Ocasio-Cortez's chances of winning are currently at 50 on Betfair.
================

Source link