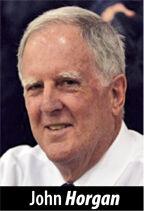 The end had come. The household's internet was down. It happened last week. With only a mere hint of wet weather (the big stuff had not yet arrived days later), the system went poof at just after 9 p.m.
A nearby transformer reportedly had malfunctioned due to moisture. Sure. Moisture. In 2021, we were being held hostage by moisture. Without an internet connection, there was no email, no instant messaging, no social networks, no data, no cable TV, no Alexa (the robot assistant) for crying out loud.
Oddly, the electrical power was still humming. The internet was not. As the hours slowly ticked by, it became painfully clear just how much the miracle of the web dominates our lives. It was disturbing. 
There was a hollow feeling, a sense that something entirely too vital was missing in action. In fairness, cellphone service and texting were operable. So things were not in full Stone Age mode. 
But the void was palpable as Monday turned into Tuesday and things weren't getting better. What's more, there was no word on when, or even if, our internet link would return anytime soon. Communication from AT&T was pathetically nil.
Withdrawal symptoms started to manifest themselves at the 12-hour mark. How long would this situation persist? Would we have to find an alternate solution? 
The library beckoned as a backup. Sure enough, the internet was available there. Nice. Back home, not so much. It was still down. Lunchtime came and went. We were starting to be resigned to a home life as it was 40 years ago.
You remember those days and nights. There was no such thing as YouTube, Facebook, Netflix, Google, Hulu, Instagram, whatever. We somehow survived.
Then it dawned: Wait a minute, things seemed to be just a bit less complicated, less feverish, less pressing. The minute-to-minute urgency to stay connected was gone. It was rather refreshing. We were adjusting. 
Then, shortly before 6 p.m., it was back. Normal life had been reinstated. Even Alexa sounded refreshed. We had been back in 1981 for 21 or so hours. It wasn't all that bad, although the emails had piled up inexorably. But modern reality is what it is. Let's hear it for spam. 
(An addendum: As a major storm hammered the Peninsula last weekend, cable TV/internet service succumbed for several periods of time, not unexpectedly. We're getting used to it.)
PERILS OF PARKING BUMPERS: Perhaps it's a lack of focus. Or maybe it's a problem with fading eyesight. Or both. But some parking lots, though they have been in existence for years, have become a minefield.
It's those vague, gray concrete parking bumpers, or wheel stops as they are also dubbed, that can cause problems for the unaware and distracted. It's just too easy to miss seeing them, stumbling over them and falling.
They need a bright paint job, something that stands out, something stark, any stunning hue that calls attention to them. We thank you in advance — after we get up off the asphalt and recover our bearings.
A MASTER OF HIS CRAFT PASSES: You may not have known him but you almost certainly heard or saw him at some point. Sam Spear was a consistent radio and TV presence for portions of at least five decades. 
He was a media spokesman and promoter for horse racing in the Bay Area. That included the long gone Bay Meadows in San Mateo. Even as the local track began to suffer from fading in-person attendance, Sam was there to tout its equine offerings and betting services. 
He was indefatigable as he pursued his craft. Always affable, helpful and knowledgeable, sadly, he is no longer with us. He died last week at the age of 72. He was one of a kind.
LOOK OUT, BUS IN TRAINING: The sign is misleading: "Bus in training." At first glance, you might surmise that the SamTrans vehicle is, perhaps, autonomous — it's actually in the process of learning how to drive. Wrong. The note refers to the novice driver of the bus. Just wanted to make that clear if you are confused. 
John Horgan, who had to take drivers ed more than once during his high school years, can be contacted by email at johnhorganmedia@gmail.com
================

Source link