[ad_1]

With support for DirectX 12 graphics and better power optimization, expect to see these AMD processors in desktops and notebooks over the year.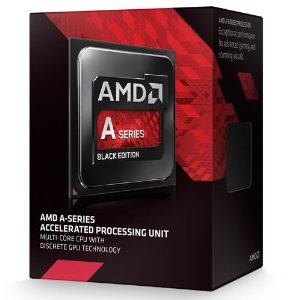 AMD today announced their new 7000 Series Accelerated Processing Units (APUs), AMD Radeon 300 and M300 Series Graphics, and updates to AMD A-Series desktop processors for desktops and laptops.
AMD 7000 Series APUs for notebooks and all-in-one devices: These new mobile processors combine a power efficient CPU, an advanced GPU, an AMD Secure Processor and a system I/O unit on a single chip that focuses on longer battery life for portable devices. This processor supports DirectX 12 along with Microsoft's upcoming Windows 10 operating system, and has a power rating ranging from 10 to 25 Watts with clock speeds varying between 1.5 and 1.5 GHz.
AMD Radeon M300 Series graphics for notebooks: These processors are aimed at OEM notebook manufacturers to be integrated as discrete graphics systems. They are based on AMD's Graphics Core Next (GCN) architecture that sports full support for DirectX 12 while coupling power-saving features based on AMD's Enduro Technologies. Expect to see these GPUs in laptops from Alienware, Dell, HP, Lenovo and Toshiba in the near term.
AMD Radeon 300 Series Graphics for OEM desktops: Based on a similar architecture used in the mobile-series GPUs, the 300 Series Graphics for OEM desktops also support DirectX 12 and are aimed at graphics processing for everyday use cases. They will be integrated initially in HP desktops.
AMD also announced updated pricing for their existing A-Series Desktop processors starting 10 May. These range from $42 for the 4 GHz A4-7300 processor to $127 for the 12-core A10-7850K processor.
AMD 7000 Series APUs for notebooks all-in-one devices
| | | | | | |
| --- | --- | --- | --- | --- | --- |
| Model | TDP | Max memory speed | CPU cores | Max CPU speed | L2 cache |
| AMD A8-7410 Quad-Core APU with AMD Radeon R5 Graphics | 12-25W | 1866 MHz | 4 | 2.5 GHz | 2 MB |
| AMD A6-7310 Quad-Core APU with AMD Radeon R4 Graphics | | 1600 MHz | 4 | 2.4 GHz | 2 MB |
| AMD A4-7210 Quad-Core APU with AMD Radeon R3 Graphics | 12-25W | 1600 MHz | 4 | 2.2 GHz | 2 MB |
| AMD E2-7110 APU with AMD Radeon Graphics | 12-25W | 1600 MHz | 4 | 1.8 GHz | 2 MB |
| AMD E1-7010 APU with AMD Radeon Graphics | 10W | 1333 MHz | 2 | 1.5 GHz | 1 MB |
[ad_2]