Ivy Tech Community College graduates of the human services program are making an impact in our community by helping people recover from addiction.
Thanks to a recent grant from the Duke Energy Foundation, scholarships are now available to students pursuing Ivy Tech credentials in addiction studies and human services.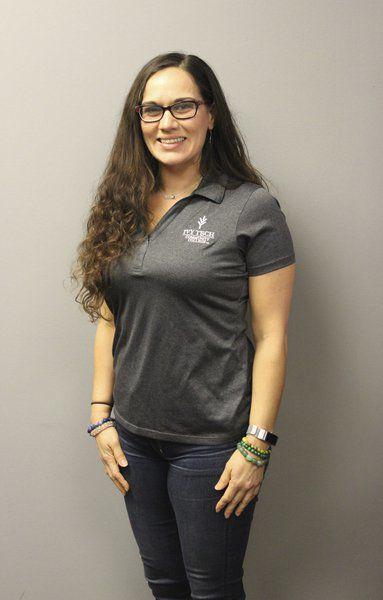 The Duke Energy Foundation provided Ivy Tech Community College with a $175,000 grant to help increase the number of specialists in addiction and mental health to combat the opioid crisis in 11 Indiana counties: Vigo, Clay, Gibson, Greene, Hendricks, Knox, Owen, Parke, Putnam, Sullivan and Vermillion.
Ivy Tech human services graduate Christy Crowder is already making a difference in the Wabash Valley. Crowder is an addictions counselor at Next Step Foundation.
"Next Step offers a holistic approach to recovery," she said. "We provide housing, mental health counseling, case management, group sessions, and faith-based services like bible studies."
Crowder earned an Associate of Science in Human Services from Ivy Tech, a bachelor's degree in human services from Saint Mary-of-the-Woods College and is about to start work on a master's degree in social work at Indiana State University.
Crowder is a licensed addictions counselor (LAC), the professional license required to be an addictions counselor in Indiana. In order to qualify to take the LAC exam, she completed the Ivy Tech addictions studies certificate and technical certificate programs to complete the necessary coursework, in addition to required bachelor's degree coursework and internship requirements.
Those who want to take the LAC exam and already meet bachelor's degree requirements but need addictions studies classes can use the Duke Energy scholarship to earn these Ivy Tech addictions studies certificates.
Crowder also helped establish, and is chairperson of the Wabash Valley Recovery Alliance and director of the Wabash Valley Recovery Center.
"One of the goals of the Wabash Valley Recovery Alliance is to reduce the stigma of addiction," said Crowder. "The Alliance also serves as an advisory board to the Recovery Center, and includes people in recovery, law enforcement, and college faculty. A lot of times, people in recovery are not included in decisions, but they are included in the Alliance."
Lindsey Skelton, a current Ivy Tech human services student, is also active in the recovery community. Skelton is president of the Phi Theta Kappa (PTK) honor society at Ivy Tech Terre Haute and a student board member of the Indiana chapter of NAADAC, the Association for Addiction Professionals.
"As a student board member, I attend meetings and conferences and give input on what the group does for the year," she said. "I help them brainstorm and come up with conferences open to addiction professionals and students."
Skelton has had multiple internships as a student.
"My first internship was at Harsha Behavioral Center," she said. "Most of what I did was shadowing the therapists and I got to sit in on assessments and therapy. I also was able to lead groups."
As part of her internship, she visited Vigo County middle schools during mental health week, representing The Maple Center.
"We conducted a survey that asked students what mental health meant to them, and gave them information about mental health and wellness," she explained.
This fall, she began a new internship at Next Step Foundation.
"I have been sitting in on groups and learning about administrative work, and eventually I will be leading groups," she said.
Skelton has struggled with addiction in the past, which is why she now wants a career helping people recover.
"I attended Purdue and studied chemical engineering but when I started bar tending and stopped attending classes, I became lost in the world of addiction," she said. "I eventually found my way back to sobriety. One of the things that helped me was yoga."
Skelton now teaches a yoga 12-step recovery class each week, every other Monday, alternating between the Hamilton Center and Next Step. It is a grant funded program through the Maple Center.
After she graduates with her Ivy Tech human services associate degree and addictions studies certificates, she wants to become a Licensed Addictions Counselor so she will continue her education to earn a bachelor's degree in human services.
For information about Ivy Tech addiction studies programs, visit ivytech.edu/human-services. For information and to apply for the Duke Energy scholarships, visit ivytech.edu/thscholars.
— This article was provided to the Tribune-Star by Ivy Tech Community College Terre Haute.