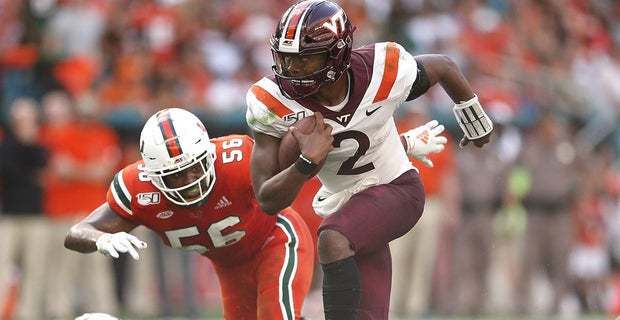 On Saturday afternoon, Virginia Tech will play host to the Rhode Island Rams, their second FCS opponent of the year. Due to scheduling two FCS opponents, Virginia Tech will need to hit an unofficial 7-win mark in order to make a bowl game this year. After a surprising road win at Miami, Virginia Tech is sitting at 3-2 and 1-2 in the ACC. Rhode Island is struggling at 1-4 with their lone win over Brown last weekend. 
Prior to the contest, the crew at VTSCOOP locked in their predictions for the contest.
Want to stay up to date with all things Virginia Tech? Sign up for the VTSCOOP daily newsletter and never miss a thing!
CZYHokie
Hokies Smash.
Prediction: Virginia Tech 60, Rhode Island 10
Matej Sis
I want to believe this is the last game that Virginia Tech can experiment with Hendon Hooker and their depth. It's okay to make mistakes if you're trying new things. I don't think Virginia Tech will do that, however. I think they give Hooker generic plays and ask him to do a little more, but mainly take care of business via the run game. I expect a boring game out of the Hokies offense, in hopes to keep most things under wraps for UNC, and a 50-carry 200+ yard performance out of the running backs. Maybe a Tahj Gary sighting or a Caleb Steward double-digit carry game. Defensively, I want to see what Amare Barno can do. I think this is a perfect scenario to see him operate at backer. A few depth guys on the defensive side of the ball could allow some scoring, but overall it should be pretty comfortable. 
Prediction: Virginia Tech 38, Rhode Island 10
Doug Bowman
Virginia Tech has to be feeling a lot better about themselves after last week. It proved that a strong week of prep and they can be a good football team. They'll need to maintain that focus this week, against a Rhode Island team they should beat by a couple touchdowns. I'll be curious to see how the Hokies manage Hooker and the competing opinions of whether he needs as much experience as possible, whether VT needs to keep him off useful game film as much as possible before next week, and whether he just needs to be kept healthy.
As far as the game goes, playing at home off a good win last week, I think the Hokies finally take care of business and take this one easily. I'll even say Quincy Patterson will get his first extended action in this one.
Prediction: Virginia Tech 42, Rhode Island 13
Evan G. Watkins
Virginia Tech has a chance to do what they haven't been able to do all season, put away an opponent early.  Rhode Island isn't a team that should keep it competitive against Virginia Tech.  They run a spread and will air it out a lot, which should lead to a few Virginia Tech interceptions.  Hendon Hooker will get to control the offense for at least the first half to continue getting into a groove.  While I expect the play book to open a little bit more this week than against Miami, the offense will be vanilla as the Hokies tune up for another ACC matchup next week.  Games like this are incredibly hard to predict.
Prediction: Virginia Tech 35, Rhode Island 6