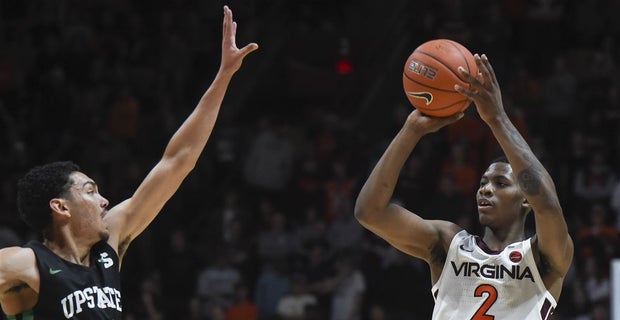 Lehigh (2-1) vs Virginia Tech (3-0)
Blacksburg, VA – Cassell Coliseum
Saturday, 1:30 p.m.
Lehigh looks for three straight wins
The Lehigh Mountain Hawks, a team that hails from the Patriot League, comes into this game looking for their third straight win on the season. Lehigh started off the season with a tough home loss to Monmouth but has bounced back strong since then with wins over Albany and Cairn. Lehigh comes into this contest averaging 72 point per game and winning those three by an average of 12.3 points.
Their winning margin is a little skewed since they defeated Cairn by 37 points. The Mountain Hawks this season are holding their opponents to a staggering 30.9% from the field, which is good for 10th in the country, and their opponents are scoring only 59.7 points per game. Lehigh has 3 players who average double figures this season. Their leading scorer is James Karnik, a 6'9 Senior averaging 12 points per game, 7 rebounds per game and 2.3 blocks per game. He leads the team in all 3 of these categories. Karnik will have the height advantage over most of the Virginia Tech team, so watch for him to use that to his advantage.
Lehigh also relies on Senior Guard, Jordan Cohen, who averages 11.3 points per game, 4.7 rebounds per game and 4 assists per game. Cohen is knocking down 54.2% of his shots from the field and 50% of them from the 3-point line. Freshman Evan Taylor has been another bright spot this season. He has averaged 10 points per game as well as 4.3 rebounds per game. Something to watch is how this Lehigh team decides to defend the guard heavy Hokies.
Landers Nolley looks to continue his hot start
Landers Nolley is off to a scorching hot start this season; he is leading the Hokies in minutes and points per game. Nolley averages 32.3 minutes per game and uses those minutes effectively, scoring 21.3 points per game. This Virginia Tech team is young and does not have game experience, but Head Coach Mike Young has done a great job rotating players onto the court this season. The Hokies have 9 players who average over 10 minutes per game. Mike Young has preached hard work and defense throughout this young season, and that has shown.
The Hokies are No. 8 in the nation in defensive field goal percentage, holding their opponents to 29.8% from the field. Virginia Tech has watched Freshman Nahiem Alleyne have a great start to his Virginia Tech career. Alleyne is averaging 12.7 points per game, and these are effective points, as he is shooting 47.8% from the field. What has been most impressive about the freshman is his effectiveness from behind the 3-point line—he is shooting 46.7% from beyond the arc.
Despite being such a young team, this Hokie team has relied heavily on Wabissa Bede to be the leader in the locker room. Bede is leading the Hokies in rebounds and assists, with 6.3 and 8 respectively. Another player to watch for the Hokies is Freshman Jalen Cone, who is coming off his best game of the season against South Carolina Upstate. Cone was 4/5 from the field and 3/3 from the 3-point line in a game during which he scored 11 points. Cone has shown promise early in this season, so watch for him to try to have a big game.
Matchup to watch: The matchup to watch is how the Hokies plan to guard the 6'9 James Karnik. Will Virginia Tech put PJ Horne on the Junior center or will they trust Freshman John Ojiako with the tall task? Horne gives up 4 inches to the Lehigh center but has much more collegiate experience. Ojiako would be more of a true matchup since he stands 6'10, and this would be a great test to see how the young freshman hangs in there before ACC play starts.
Projected Virginia Tech Starters:
2 Landers Nolley II (6'7, 230, Freshman) – 21.3 ppg, 6.0 rpg, 1.3 asp
3 Wabissa Bede (6'1, 195, Junior) – 5.7 ppg, 6.3 ppg, 8.0 asp
4 Nahiem Alleyne (6'3, 195, Freshman) – 12.7 ppg, 2.3 rpg, 1.7 asp
14 P.J. Horne (6'5, 230, Junior) – 8.7 ppg, 2.3 rpg, 1.3 asp
23 Tyrece Radford (6'2, 195, Freshman) – 6.7 ppg, 5.3 rpg, 0.7 asp
Project Lehigh Starts
1 Jeameril Wilson (6'7, 200, Sophomore) – 8.3 ppg, 4.3 rpg, 1.0 asp
5 Evan Taylor (6'6, 200, Freshman) – 10 ppg, 4.3 rpg, 0.7 asp
11 Jordan Cohen (6'2, 185, Senior) – 11.3 ppg 4.7 rpg 4.0 asp
13 James Karnik (6'9, 225, Junior) – 12.0 ppg 7.0 rpg, 1.7 asp
15 Reed Fenton (6'4, 165, Freshman) – 5.3 ppg, 1.7 rpg, 2.0 asp
James
Virginia Tech should not have too much of an issue again. Lehigh should be a decent test, but the Hokies should not have too much to worry about. Landers Nolley will continue his hot start to the season, and I look for him to score 20+ points again. I am intrigued to see who steps up on the offensive end in this one for Virginia Tech—will Alleyne continue to impress or will someone like Jalen Cone step up? Hokies improve to 4-0 under Mike Young.
Prediction: Virginia Tech 71, Lehigh 59
Matej
I've been writing about this aspect of the program every week: The Defense. It's been fun to watch how a group of young individuals have responded on the defensive end as a team. Chemistry is beginning to establish in the back-end and although the week-to-week competition since Clemson has leveled down, the team still plays with the same tenacity and effort. Last prediction, I said Nolley is the focal point – but expect a more balanced attack from the other players in the rotation. We saw 8 total Hokies score a basket and 7 of them had 4 or more points. That's the type of production I am expecting once again versus Lehigh. Nolley, Alleyne, Horne leading the scoring column with significant impacts from Cone, Wilkins and Ojiako off the bench. 
Prediction: Virginia Tech 76, Lehigh 61