In today's countdown to kickoff we go way back to the days of Bill Alexander to examine the only number ever retired at Georgia Tech,  Clint Castleberry.
Georgia Tech half back Clint Castleberry was a standout player at Boys High in Atlanta before arriving on The Flats in 1942, high of course was during World War II. For Boys High, Castleberry was a multi-sport athlete excelling in multiple sports but his best without a doubt was football.
What made Castleberry so remarkable was not that he was some sort of massive man who dominated the opposition, but instead that at 5'9" and 155 lbs he was as good as or not better as any other player at the time.
During his one and only season at Georgia Tech, Castleberry would finish third in voting for the Heisman an honor only surpassed by one player and matched by two other freshmen (Michael Vick and Herschel Walker would both finish third). He would also finish as a member of the first team all SEC team which was a major accomplishment at that time.
The stories of his exploits during that 1942 season are told mostly by memory and have cemented Castleberry in the halls of legends amongst the memories of the Georgia Tech faithful. The Yellow Jackets had come off a hard decade where they had only two winning seasons. The 1942 season where the Jackets would go 9-2 would set them up on a very successful run for the decade after. That being said, they'd have to do it without the help Castleberry following his freshman season.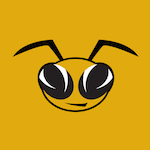 Want your voice heard? Join the Yellow Jacked Up team!
Castleberry would withdraw from Georgia Tech following the season having surgery on a knee that  he injured during the season but managed to play through. He would later be called to serve his country as a member of the Army Air Forces. His stint in the Air Forces however would not last long as on November 7th, 1944 his B-26 Marauder was set to fly from his base in Liberia to Senegal. Unfortunately, he would never reach his destination as his plane would go down during the flight. The wreckage was never truly found and his body was never recovered.
Following his death, Georgia Tech honored his life and legacy by retiring his No.19 which remains the only Jersey ever retired in program history.