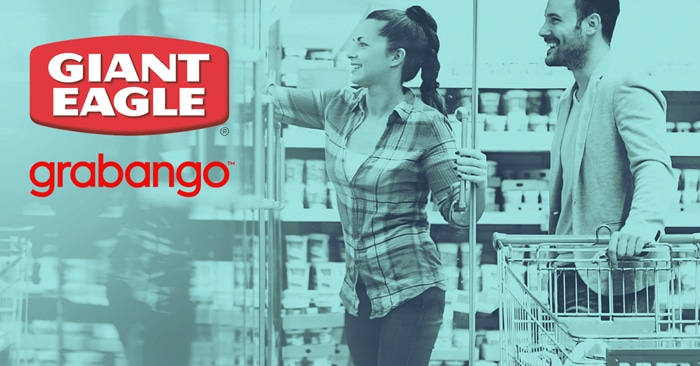 Despite the drumbeat of online grocery sales, many consumers still prefer to shop in brick-and-mortar stores. So new technology is following them into the store, instead, offering ways to get them in and out faster.
Will Glaser, the former co-founder and CTO at music streaming platform Pandora, started Berkeley, Calif.-based Grabango in 2016 to eliminate checkout headaches. The system uses computer vision and machine learning, via cameras and shelf sensors placed throughout the store, to automatically add purchases to a virtual basket once a customer adds them to their regular basket. For example, the system recognizes the can of soup you added to your cart and adds it to your digital cart. If using the app, customers have a payment method registered already and can simply pay via smartphone and leave the store when finished.
"It's like a silent giant operating in background," Grabango CMO and chief business officer Andrew Radlow told NOSH.
In January, Grabango raised a $12 million Series A round led by Propel Venture Partners, bringing its total funding to $18 million. The company currently has four major retail clients — three of which are large grocers, Radlow told NOSH. Giant Eagle last month became the first retailer to publicly announce plans to implement Grabango within the next year. So far, each client has one or two stores testing the system, Radlow explained.
The offering stems from an urgent need to improve the brick-and-mortar grocery experience, Radlow said. Shoppers are visiting grocery stores about 1.5 times per week, according to research organization Food Marketing Institute (FMI)'s Grocery Shopper Trends report, which noted that although online grocery shopping has doubled since 2015, it will likely plateau as Millennials have not increased their online grocery habits in the past two years. Since younger generations often judge a store by experience and convenience, the report notes, retailers should create a balance between options for customers to linger, like cafes and bars, along with innovations to get them in and out quickly.
In response to these trends, Amazon launched checkout-free Amazon Go stores in Seattle in 2018 and currently has 13 locations in Seattle, Chicago, San Francisco and New York City. But not all consumers easily adapt to digital options while grocery shopping; for example, Walmart scrapped its smartphone-based scan-and-go pilot last year after just four months, as customers failed to use it while shopping in stores. Thus, Grabango is working with retailers to determine what version of its service and features will suit them best — including a smartphone-free option that still uses computer vision to log purchases, but allows in-store payment, without cashiers having to scan each item.
Giant Eagle, one of the largest food retailers in the U.S., with about $8.9 billion in annual sales, is pilot testing two versions of Grabango in one of its GetGo convenience stores: the phone-based app that allows easy mobile payment and one that allows customers to pay at checkout using cash, credit cards, EBT and other tender. In its research, Grabango found that about half of consumers buy groceries with cash. With the latter option, customers don't need to use smartphones; instead, the cashier would look up their virtual basket and take their payment.
Although there are other technological solutions on the market, Radlow noted, Grabango's app-free option is what makes its solution unique. Additionally, Grabango doesn't use facial recognition, so privacy concerns aren't an issue.
"To the system you look like a human blob wearing certain colors & dimensions," he said.
Grabango can work with retailers from c-stores to larger grocers. In addition to 216 supermarkets, Giant Eagle operates 202 locations of GetGo, a gas, c-store and grocery hybrid. By pilot testing at a GetGo location the company will determine what version and when to further implement it in its bigger stores, Jannah Jablonowski, a Giant Eagle spokesperson, told NOSH. The system would be designed to work with the retailer's Advantage Card rewards program.
For Giant Eagle, Grabango adds to a roster of convenient shopping options, such as click-and-collect service 'Curbside Express,' launched in 2012; home delivery, launched in 2017, and a mobile app launched in 2018. According to Jablonowski, the company sees Grabango as yet another handy option for reducing or avoiding checkout lines. When Curbside Express launched, frictionless technology was barely a thought, Jablonoski added, noting that for Giant Eagle it's a "natural evolution."
"We're speaking to customers who still want the physical footprint, exploring the store and making selections, but don't have time to wait through whatever type of line might be at checkout," Jablonowski explained. "It helps make stores that much more engaging and exciting. Once people are excited about one [solution], they're more excited about others."
Additionally, Giant Eagle earlier this month announced it's opening a 23,000 square-foot technology hub in Pittsburgh to expand digital offerings. But for customers who prefer touching, seeing, smelling and selecting their food, coupling the real experience with convenient technology can be key to driving more in-store visits. Aside from bar code readers, the checkout experience has barely changed in 100 years, Radlow said, adding that while Grabango is a hands-off digital solution, it doesn't aim to replace store employees who can also help the shopping experience. Eventually, though, Grabango could track and provide grocers with further insights to help with ordering, gauging customer preferences and more.
"People also enjoy benefits from operational efficiency," Radlow said. "It can and will naturally evolve that way, but grocers are looking for a better shopping experience [first]."