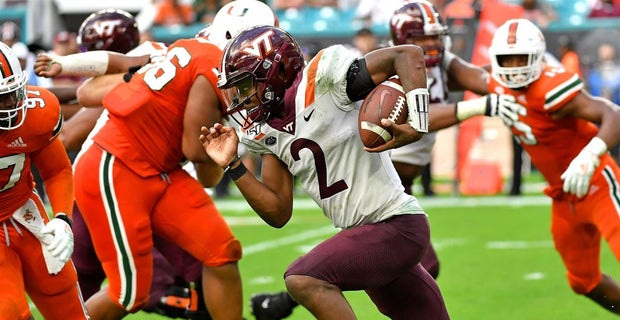 Matej Sis, beat writer and analyst for VTScoop247, stops by Irish Illustrated to answer a few questions regarding the 5-2 Hokies of Virginia Tech.
Irish Illustrated: A pair of thrilling wins and two odd losses for the Hokies thus far. Where has the offense improved most since that ugly loss to Duke? Is it as simple as replacing Ryan Willis at quarterback?
Matej Sis: The simple and easy answer is yes. Hendon Hooker and Quincy Patterson are dual-threat quarterbacks that have been able to mask a lot of the inefficiencies of the offense by using their blend of throwing and running ability to open up the play-book. Not only has the offense performed at a higher level, but they are taking care of the football as well. Ryan Willis' abilities aren't the reason he is on the bench, but rather his inability to control the football.
Each week Hendon Hooker grows more comfortable in the offense. Perhaps the biggest domino effect of the transition was the emergence of the tight end room, arguably the deepest positional unit on the team. With Willis under center, the tight ends were under-utilized. Now with Hooker, the Tight Ends have been shining week after week. Virginia Tech has used their tight ends on jet sweeps and even has a formation where the tight end is the running back. Essentially, Virginia Tech tries to get their best players on the field and the perks of having a mobile quarterback allows them to act as the running back and get even more tight ends on the field.
Irish Illustrated: Damon Hazelton had his way with Notre Dame, especially in the first half, last season and he seems to have come on strong of late after returning from injury. How dangerous is the offense with its playmaker at full strength?
MS: Damon Hazelton may not be back to full strength and he's already making a huge impact in the offense. He has 10 catches for 234 yards and 5 touchdowns. Yes, half of his receptions are touchdowns. He is working his way back from a hamstring injury which explains his lack of touches, but he has been pivotal in the four games he's played in. The drops have been an issue in his short-time back this season, namely five during the Rhode Island Game, where he could've finished with four touchdown receptions.

Despite the drops, he's the type of player that can really open up a defense. He's not the fastest or quickest, but he knows how to get to his spots and has great hands to make spectacular catches. Between him, Tre Turner, the tight ends and Hooker, the Virginia Tech offense has no shortage of options.
Irish Illustrated: Aside from third down conversions offensively (and punting) there aren't many striking statistics for the Hokies thus far. What do they do best, consistently, and what did they do best in their three Power 5 wins?
MS: Punting is often overlooked, but Oscar Bradburn is one of the premier talents in college football. Notre Dame Fans will notice him on fourth down. He is No. 7 in Net Punting.
Outside the Australian Boot, Virginia Tech has performed incredibly well in the redzone. The Hokies are 28-of-29 in converting redzone trips. 21-of-29 have resulted in a touchdown once they enter the redzone. They are No. 6 in the nation in that regard.
Point being – If Virginia Tech can sustain their drives on offense and get to the redzone, there is a very good chance they will score.
Defensively, Virginia Tech has quietly racked up 25.0 sacks – good for No. 12 in the nation. They are vastly undersized up front, but Bud Foster loves sending exotic blitz packages that result in DBs and LBs chipping in on the sack action. His blitz heavy defense is something to keep an eye on for Saturday.
Irish Illustrated: How has last year's youth-filled Bud Foster defense improved since the Irish hit Blacksburg last October? Who are two or three of Foster's defensive performers Irish fans should monitor Saturday afternoon in South Bend?
MS: The Achilles Heel of the unit has been big-plays and trick-plays. Statistically, Virginia Tech's total defense at No. 66 doesn't seem all that impressive – but there's a palpable difference between now and last year's No. 99 overall defense. The defensive line is probably the weakest unit on the defense, the linebacker corps the strongest, while the secondary is certainly improving on a weekly basis.
To the point about youth – there is a total of two seniors on the defense Reggie Floyd, safety, and Jovonn Quillen, cornerback, so although it's a calendar year later, the Hokies are still VERY young on defense.
Three names to know:
Rayshard Ashby – An undersized middle-linebacker. He's 5-foot-10 237-pounds, yet has been the recipient of the ACC Linebacker of the Week three times this season. He has 71 tackles in 7 games this season. He's all over the field and is a fun player to watch regardless of school affiliation. He wears No. 23.
Chamarri Conner – A young sophomore that continues the youth movement on defense. He took over for a redshirt junior this season at the Whip position. A hybrid linebacker and defensive back that is often found around the line of scrimmage, but is able to drop into coverage. He has been stuffing the stat sheet. He is a guy to keep an eye on for "corner blitzes" as he is sent very often by Bud Foster as the extra man on passing downs. He wears No. 22.
Caleb Farley – A redshirt sophomore cornerback. If Notre Dame fans know the name, it's probably from seeing the back of his jersey constantly chasing the Irish wide outs that got behind him last year. He was new to the position and had rocky moments as a freshman, but this year he has established himself as one of the top cornerbacks in the ACC. According to PFF, he's in the Top-10 in the nation in completion % when targeted (along with Jermaine Waller – the opposite cornerback). He's a physical 6-foot-2 207-pound cornerback with 4.4 speed and toughness. He has 3 INTs, 10 PBUs and 14 PDs. He wears No. 3.
Irish Illustrated: Have, or how have, your thoughts on this matchup changed in wake of what you saw from Notre Dame last weekend in Ann Arbor? Is the 17-point spread an accurate reflection of where the Hokies are at present?
MS: It's tough to say what Virginia Tech is at this point. The quarterback change really solved a lot of problems. Ryan Willis fell to both Boston College and Duke. The change has resulted in a three-game win streak. Hendon Hooker took down Miami in his first start, but got injured against UNC, which gave the No. 3 QB, Quincy Patterson the reigns to win the game. It's a bizarre season for Virginia Tech and offensively it's an unknown quantity 7-games into the season.
Hendon Hooker will likely start and could pose some problems in South Bend. Running the football and Tight End usage define how Virginia Tech can attack the opposing defense. Notre Dame will have to tighten up in Run Defense from last week. Damon Hazelton and Tre Turner are two major threats that must be accounted for at all times. I think both could really shine on the road and within the offense.
Defensively is where I think the Notre Dame offense will have their way with Bud Foster's unit. Virginia Tech is built to withstand the spread and smaller opponents in the ACC. The unit features speed and grittiness, while Notre Dame's offense is pure power and physicality. I have concerns over Ian Book, but this seems setup perfectly for a bounce-back game. Foster's defenses have always struggled against mobile quarterbacks and Book will be able to make plays outside the pocket that ignite the offense.
Ultimately, Notre Dame will take the game – though I think the game itself could be more of a treat than the 17-point spread suggests.
I do expect a lot of points.