Its been a great few days for Sam Evans and Jessica Starkey.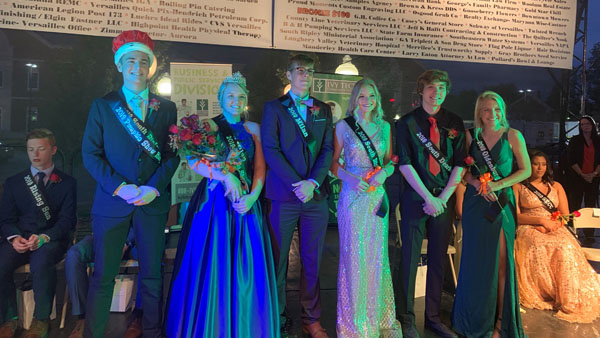 Royalty was crowned during opening night of the 117th Versailles Pumpkin Show. (Standing left to right) King Sam Evans of South Ripley, Queen Jessica Starkey of Milan, first runner-up Carter Wade of Milan, first runner-up Lilli Hilton of South Ripley, second runner-up Tyler Baker of South Dearborn, and second runner-up Faith Sullivan of Oldenburg Academy. Photo provided by Ryan Holcomb.
(Lawrenceburg, Ind.) – The King and Queen of the Versailles Pumpkin Show are getting scholarships from Ivy Tech Community College Lawrenceburg.
King Sam Evans from South Ripley High School and Queen Jessica Starkey from Milan will both receive one-thousand dollars each to use towards their post-secondary education. 
"Ivy Tech is honored to partner with the Versailles Lions Club to offer scholarships to these deserving young people," commented Shakira Grubbs, Vice Chancellor of Enrollment and Student Success for the Lawrenceburg campus.
RELATED STORIES: