[ad_1]

©AFP
Nintendo has forecast a doubling of its annual operating profit this year, as the Japanese group prepares to open up its games to smartphones in a long-awaited strategic shift
.
The maker of Super Mario games on Thursday reported its first annual profit since 2011 for the 12 months to March 31, booking operating profit of Y24.8bn.
Nintendo said it expected to more than double that in the current financial year, forecasting an operating profit of Y50bn ($418m). Sales are expected to grow 3.7 per cent year on year to Y570bn, Nintendo said.
However, the games group's improved 2014-15 numbers were driven mainly by a weaker yen and cuts in hardware costs, while sales of its game consoles lagged behind those of Sony's PlayStation 4 and Microsoft's Xbox One.
Nintendo projected full-year sales of its Wii U console to be roughly flat at 3.4m, while sales of the 3DS handheld game device are expected to fall 13 per cent to 7.6m.
Amid sluggish sales of its traditional game consoles, Satoru Iwata, Nintendo president, announced in March that the company would link up with Japan's DeNA, a mobile gaming company, to develop games for smartphones and tablets.
The strategic shift, long urged by investors, came after Mr Iwata had resisted opening up the group's well-known characters and games — such as Donkey Kong and Legend of Zelda — to mobile devices, saying the move would erode their value and cannibalise its console business.
The two companies are expected to roll out gaming applications for mobile devices later this year, although neither has disclosed which Nintendo characters will be offered. In addition to fresh revenue expected from smartphone games, Mr Iwata said the company was developing a new console platform called the NX.
Since announcing the deal, Nintendo's shares have risen 40 per cent. But some analysts have expressed scepticism whether the two companies would be able to create a popular smartphone game that was an immediate hit.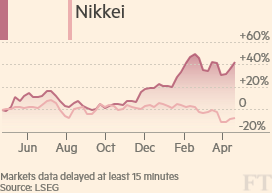 "Investors aren't confident whether a big hit will come out just by utilising Nintendo's intellectual property. They will need to see these forecasts delivered before they can have any confidence," said Mitsushige Akino, chief fund manager at Ichiyoshi Investment Management, a Tokyo-based asset manager.
Eiji Maeda, a Tokyo-based analyst at SMBC Nikko Securities, said a single Nintendo smartphone game had the potential to generate global sales of Y36bn per year. Goldman Sachs estimated that the shift could contribute Y167bn to Nintendo's annual operating profit if mobile versions of Nintendo's top 10 titles were created.
"Until Nintendo can hand over the baton to the next game hardware (NX) planned in 2016, its core business will continue to be in a tough condition," Mr Maeda said.
Copyright The Financial Times Limited 2015. You may share using our article tools.

Please don't cut articles from FT.com and redistribute by email or post to the web.
[ad_2]