It's Christmas, and you know what that means? Yup – your kids are all off school and will be looking for something to keep them busy. Fortunately for you, them, or both, you're the proud owner of a Nintendo Switch.
Why is that fortunate? Because the Nintendo Switch is the master of family gaming. There are a bunch of games that you can play with up to eight players, and due to the ingenuity of Nintendo, you'll most likely already have the number of Joy-Cons you need.
To help you figure out what to play, we've rounded up the very best games you can play with your family this Christmas. We've included a wide range to suit a variety of different tastes so have a glance through to find something that takes your fancy. Before you moan about the order, please note that these games are listed alphabetically, not in a ranking of awesomeness.
Please note that some of the links on this page are affiliate links. If you click them and make a purchase we may receive a small percentage of the sale which helps support the site. Please read our FTC Disclosure for more information.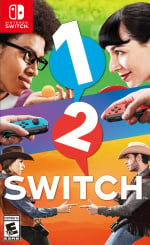 Publisher: Nintendo / Developer: Nintendo
Release Date:
3rd Mar 2017 (USA)
/
3rd Mar 2017 (UK/EU)
1-2-Switch isn't anything particularly special but it does provide a few hours of light entertainment. It basically serves as a bunch of demos that show off the capabilities of the Joy-Con and the Switch itself.
What you should do is get your grandparents to play it with each other. The games themselves are a bit too simple to provide any real fun, but watching two people who don't understand games at all play them? That sounds like a heck of a lot of fun to us.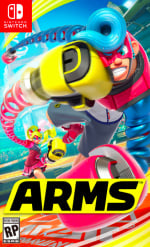 Publisher: Nintendo / Developer: Nintendo
Release Date:
16th Jun 2017 (USA)
/
16th Jun 2017 (UK/EU)
ARMS seems like it was built from the ground up to showcase the unique attributes of the Nintendo Switch, and it probably was! This motion controlled-battler supports up to four player multiplayer, with two of you teaming up to take on the other two.
You'll swing the Joy-Con around to perform a variety of different moves in this zany fighter. You can punch, grab, block, and pull off ultimate abilities, all via motion controls (you can use more traditional commands too, if you're a party-pooper).
True masters can even redirect their fists in mid-air to throw off their opponents. Though it's easy to pick up, there's an impressive amount of depth to this fighter.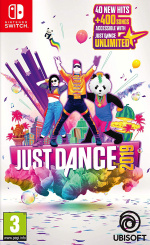 Publisher: Ubisoft / Developer: Ubisoft
Release Date:
23rd Oct 2018 (USA)
/
26th Oct 2018 (UK/EU)
The festive season is often about having a song and a dance, so Just Dance 2019 will find favour this Christmas, we're certain. If you just want to distract the kids while you sneak off to scoff some mince pies or glug the sherry, popping this on the TV and leaving them to it will keep them occupied nicely. That way you can make sure the turkey is extra crispy in peace.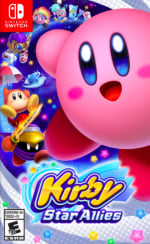 Publisher: Nintendo / Developer: HAL Laboratory
Release Date:
16th Mar 2018 (USA)
/
16th Mar 2018 (UK/EU)
Kirby Star Allies is a co-op platformer from the brains behind Super Smash Bros., and while the combat isn't quite as complex, it sure as heck is a lot of fun.
It supports up to four players in multiplayer, with one taking on the role of the eponymous Kirby. The remaining players will take on the roles of Kirby's allies, who he can hire at any point by chucking a star at them.
You'll battle your way through a variety of gorgeous levels by combining the unique abilities of each character. Will you combine fire and a sword to create a fiery sword? Or cover the arena in ice so you can slide down it, crushing all enemies in your path? That choice is up to you.
No matter what you do, you're bound to have a ton of fun.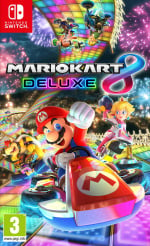 Publisher: Nintendo / Developer: Nintendo
Release Date:
28th Apr 2017 (USA)
/
28th Apr 2017 (UK/EU)
Mario Kart sits alongside the likes of Smash Bros. as a must play when it comes to parties, and the latest entry in the franchise just so happens to be the best one yet.
You and up to three friends will duke it out across a variety of different tracks, using items to gain the advantage over each other.
Just be careful – the blue shell is annoying enough to cause an even bigger family argument than the one you were going to have over Christmas anyway.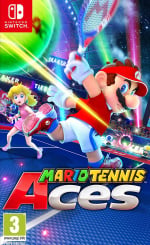 Publisher: Nintendo / Developer: Camelot
Release Date:
22nd Jun 2018 (USA)
/
22nd Jun 2018 (UK/EU)
Mario Tennis Aces needs no introduction. This is tennis done Mario style, so expect crazy moves, your favourite characters and a variety of themed arenas.
Much like ARMS, you can also use motion controls to get the true feeling of playing tennis. It also supports up to four player multiplayer in doubles matches, and you can play as the likes of Mario, Luigi, and Yoshi depending on your tastes.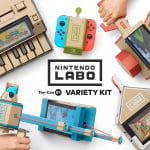 Publisher: Nintendo / Developer: Nintendo
Release Date:
20th Apr 2018 (USA)
/
27th Apr 2018 (UK/EU)
This is another one to get the grandparents involved in! Nintendo Labo, while often criticised, does actually provide a good few hours of fun, and is great for playing with a casual audience, both young and old.
Even just setting up and customising the cardboard cutouts can be a good bonding exercise, and your kids might even get a kick out of learning to play the cardboard keyboard. When you've finished constructing these amazing Toy-Con (for that is what they are called) then you've got hours of tinkering ahead of you thanks to the game's amazing 'Garage' feature.
Just make sure you've got plenty of storage space around the house.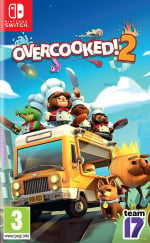 Publisher: Team 17 / Developer: Ghost Town Games
Release Date:
7th Aug 2018 (USA)
/
7th Aug 2018 (UK/EU)
Overcooked! 2 is a genius time management puzzler in which you and up to three other chefs try and work together to cook up a variety of delicious meals. There are a variety of different ways to tackle it. Do you each take up a particular duty, or try and share it between you?
Also, it's not just time that's the enemy – the kitchen often is too. It will change as time goes by, perhaps shutting off pathways so you have to reassess as a team what you need to do to finish the meal.
If cooking the Christmas dinner is too stressful for you then this might be the ideal way of blowing off some steam.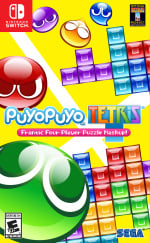 Publisher: SEGA / Developer: Sonic Team
Release Date:
25th Apr 2017 (USA)
/
28th Apr 2017 (UK/EU)
It doesn't get much better than Tetris, does it? Well, actually, it does when you combine it with Puyo Puyo to create the ultimate puzzle battler.
You and up to three friends can battle it out to determine who the champion is, with each of you choosing the game you want to play. If one of you is great at Tetris and the other at Puyo Puyo, you can battle it out to see which is better at their respective games.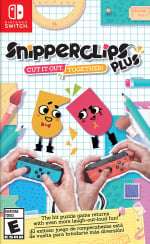 Publisher: Nintendo / Developer: SFB Games
Release Date:
10th Nov 2017 (USA)
/
10th Nov 2017 (UK/EU)
Snipperclips is an awesome little co-op puzzler in which you and a friend play as little paper characters, and have to cut shapes out of each other in order to solve a bunch of puzzles.
It's incredibly charming stuff, and well-suited to audiences of a wide variety of different ages. Ideal fodder for Christmas, then.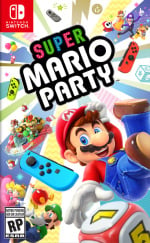 Publisher: Nintendo / Developer: Nd Cube
Release Date:
5th Oct 2018 (USA)
/
5th Oct 2018 (UK/EU)
Super Mario Party is more like a digital board game than a traditional video game. You and up to three others play through 80 minigames in a variety of different modes.
You'll throw dice to move around a board, triggering special events depending on the space you land. This could be a minigame, which you'll all compete in to earn coins. You can spend these on items to give you an upper hand, or stars – the person who has the most stars at the end is the winner.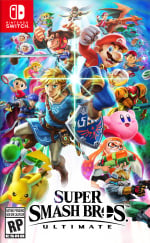 Publisher: Nintendo / Developer: Nintendo
Release Date:
7th Dec 2018 (USA)
/
7th Dec 2018 (UK/EU)
Super Smash Bros. Ultimate is the biggest Nintendo exclusive of 2018 and if you don't already own it then you should probably return your Switch. You simply don't deserve it.
Jokes aside, this is one of the best games to play as a group. It provides hours of frantic, crazy fun as you beat the ever living poop out of each other to see who can be the last one standing in the arena.
The latest version also includes every single character from Smash Bros. history, alongside a few newcomers. That's the biggest line-up ever and will provide you with many, many hours of entertainment.
What's your favourite Switch game to whip out when the family's round? Is there anything you feel like we missed off the list? Let us know in the comments section below!