CHAPEL HILL, N.C. – For the first time this season, North Carolina leaves the state this weekend to play Georgia Tech in Atlanta and begin a stretch of five consecutive ACC Coastal Division matchups.
Through five weeks, the Tar Heels (2-3, 1-1 ACC) have played every game down to the wire. Their average points margin is -0.6, which is the second-closest in the country.
Under first-year head coach Geoff Collins, the Yellow Jackets (1-3, 0-1 ACC) are amidst a transition from the triple-option wishbone offense to more of a pro-style offense, but it's been more gradual due to the nature of the switch.
"Geoff has done a really good job," UNC head coach Mack Brown said. "I thought he would go pro-style and just change it all, and he's not. He kept enough of the option principles in there that he's doing both and I think that's really smart on his part. Like us, they're going to get better every week."
Ga. Tech has attempted 162 rushes compared to 87 passes and been more efficient running the ball. It ranks seventh in the ACC with 4.02 yards per carry compared to last in the conference with 5.8 yards per pass attempt.
Collins utilizes three quarterbacks: redshirt sophomores Lucas Johnson and Tobias Oliver and redshirt freshman James Graham. Johnson is 16-of-29 passing with 136 yards and a touchdown, while Oliver is 11-of-26 with 177 yards and Graham is 15-of-32 with 192 yards and a touchdown. Oliver is the team's leading rusher with 264 yards.
"So you see there's some pieces that … like the tight end's a transfer," defensive coordinator Jay Bateman said. "I think he's a good player, from UCONN. They didn't recruit any tight ends before. So it was smart of them to go get a guy. But I think the quarterbacks are really athletic, like you'd expect. Eight, Oliver is really fast, scary fast. And they're doing a good job. They give you a lot of stuff. It's a lot of runs. And they're spreading you out, and getting the ball in space. I think they're doing a really good job."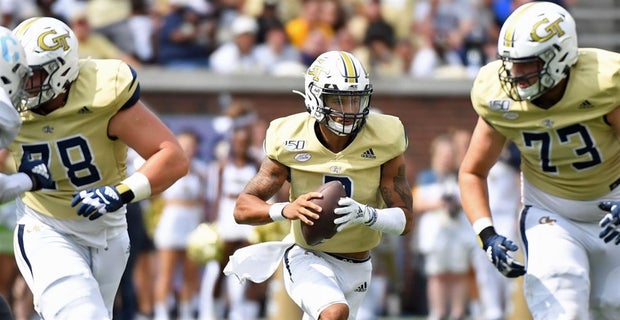 Last season, Oliver rushed for 120 yards, two touchdowns and added 104 yards through the air with a touchdown.
The Yellow Jackets have struggled to punch it in the end zone this year. They rank last in the country in red zone score percentage (55.6 percent) and 119th in red zone touchdown percentage (44.4 percent).
Defensively, they have a pretty solid pass defense, allowing the fewest yards in the ACC. This is a bit skewed considering teams have attempted 20 passes per game (also fewest in the ACC) against them, due in part to a couple of blowouts as well as the Citadel's run-heavy offense.
Clemson ran for 411 yards (8.9 per carry) in week one, the Citadel ran for 320 yards on 71 attempts (4.51 per carry) and Temple ran for 195 yards (3.98 per carry), all GT losses. In its lone win, the Yellow Jackets held South Florida to 97 rushing yards.
"The game that we're watching the most is their game against Clemson," offensive coordinator Phil Longo said. "There are some guys up on the defensive line that are twitchy and they can change directions and they're physical, Brentavious Glanton being one of them. Justice Dingle does a good job. Antwan Owens is a guy that comes in on the second tier and he does a good job. Jaquan Henderson is a lighter guy, but he has great speed and great change of direction. He can be a headache on the edge. They actually played Clemson very hard, I thought, especially early on in the game. So, they're a concern.
"We've got our hands full up front. In the secondary, they haven't been challenged as much I think because of the fact that they've been giving up some run plays. If we have an opportunity to challenge them with some of our people, we will. If we're running the ball well, you may see us do that for four quarters."
UNC averages 3.84 yards per carry (9th ACC), but had success last week against Clemson, rushing for 146 yards on 4.06 yards per carry. The Tigers hold teams to 2.77 yards per carry this season.
Michael Carter and Javonte Williams could have big days thus opening up the occasional deep ball for Sam Howell via play-action. He's 13-of-25 passes for 426 yards on targeted throws of 20-plus yards downfield.
The Tar Heels will look to get their second win in 20 years at Georgia Tech and return to .500 in the win-loss column on Saturday.