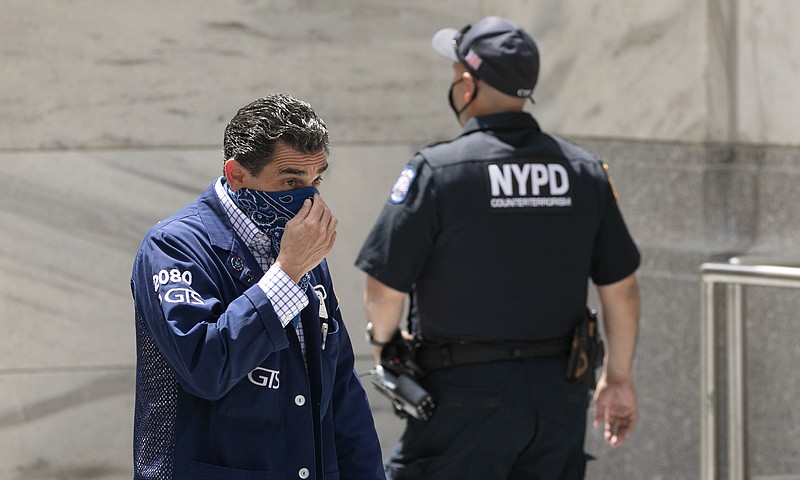 A stock trader, left, adjusts his mask as he enters the New York Stock Exchange, Thursday, July 30, 2020. Strong gains for Big Tech stocks are helping to prop up Wall Street in early Friday trading following blowout profit reports from some of the market's most influential companies. (AP Photo/Mark Lennihan)
NEW YORK — Big technology companies continue to steamroll through the pandemic, and strong gains for some of the market's most influential companies Friday helped Wall Street close out its fourth straight winning month.
The S&P 500 rose 24.90 points, or 0.77%, to 3,271.12 after blowout profit reports from Apple and several other tech titans. The gains didn't come easily, though, as the stock market flipped up and down through the day amid worries about the economy and whether Congress can find agreement on more aid.
The Dow Jones Industrial Average was down as much as 300 points before finishing the day up 114.67, or 0.44%, at 26,428.32. The Nasdaq composite jumped 157.64, or 1.5%, to 10,745.27 on the strength of tech stocks, which also accelerated in the last hour of trading.
Despite the gains, caution was clearly present across markets as the coronavirus pandemic continues to cloud the economy's prospects. The 10-year Treasury yield touched its lowest level since it dropped to a record low in March. Gold also continued its record-setting run as investors searched for safety, while the majority of stocks in the S&P 500 sank.
[CORONAVIRUS: Click here for our complete coverage » arkansasonline.com/coronavirus]
Among the laggards were companies that most need the economy to get back to normal and the pandemic to subside, including many in the travel industry.
Expedia Group slumped 4.6% after it reported weaker results for the latest quarter than Wall Street expected. The company's chief executive officer, Peter Kern, called it "likely the worst quarter the travel industry has seen in modern history."
Energy companies were also weak as the pandemic sucked away demand for oil. Chevron dropped 2.7% after it reported a worse loss for its latest quarter than Wall Street expected.
The economy cratered to its worst quarterly performance on record during the spring, and worries are high that continuing waves of coronavirus infections may halt what had been a budding recovery. An extra $600 in weekly unemployment benefits from the U.S. government expired with July's end, and Congress continues to argue about how to provide more support for the economy.
The S&P 500 made its final leg back into positive territory for the day as top Democrats announced a meeting with White House representatives for this morning to continue talks.
Also helping to prop up the S&P 500 was the power of big tech-oriented stocks. Amazon, Apple and Facebook late Thursday each reported stronger profit for the latest Quarter than Wall Street expected, and each rose at least 3.7%. They're three of the biggest companies in the world, making up nearly 13% of the S&P 500 themselves, so their movements hold great sway over indexes.
Google's parent company, another behemoth in the market, also reported stronger profit than analysts had forecast, but its stock stumbled.
The yield on the 10-year Treasury ticked down to 0.53% from 0.54% late Thursday. It touched its lowest level since March 9, the day it dropped to its record intraday low just below 0.34%. The yield tends to move with investors' expectations for the economy and inflation.
Gold for delivery in December, the most actively traded contract, rose $19.10 to settle at $1,985.91 per ounce after climbing as high as $2,005.40.
Benchmark U.S. crude oil rose 35 cents to settle at $40.27 a barrel Friday. Brent crude rose 37 cents to $43.31 a barrel.
European and Asian markets closed broadly lower.
Information for this article was contributed by Yuri Kageyama of The Associated Press.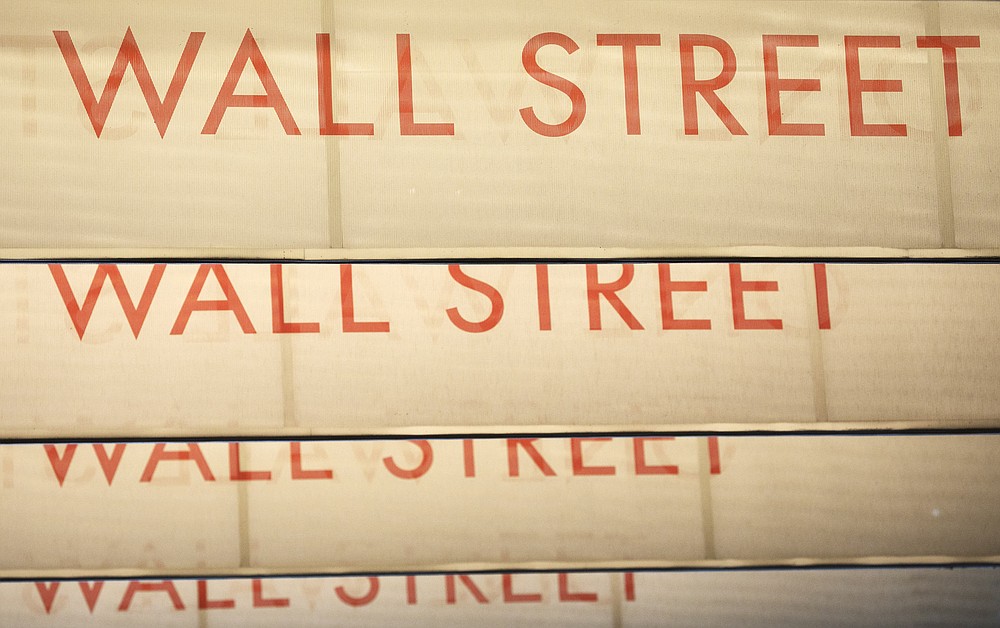 Signs for Wall Street are shown, Thursday, July 30, 2020, in New York. Stocks are falling on Wall Street Thursday after reports showed that layoffs are continuing at a stubborn pace and that the U.S. economy contracted at a nearly 33% annual rate in the spring. (AP Photo/Mark Lennihan)
Sponsor Content
Comments
========
Web Source