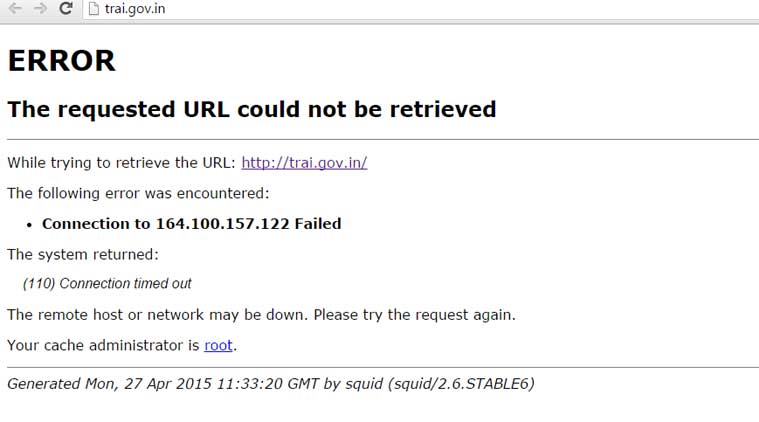 TRAI's website was hacked by Anonymous. (Screenshot)
The Telecom Regulatory Authority of India's (TRAI) website has been brought down by Anonymous India, according to the latter's Twitter timeline. At the moment, the TRAI website is inaccessible and says the URL cannot be retrieved. Anonymous has carried out a DDOS (Distributed Denial of Service) attack against the TRAI website.
Anonymous brought down the TRAI website after the regulator put out 1 million email ids of the users who had sent emails responses on the Net Neutrality debate. You can check out Anonymous' tweets below:
#TRAI forgot about us hahaha! We reminded them that we are still here. BOOM BOOM http://t.co/5bNzEGt4oU

— AnonOpsIndia (@opindia_revenge) April 27, 2015
#TRAI is so incompetent lol They have any clue how to tackle a DDoS? — AnonOpsIndia (@opindia_revenge) April 27, 2015
#TRAI, have you tried turning it off and on again? x'D pic.twitter.com/mrCpcwhkpq

— AnonOpsIndia (@opindia_revenge) April 27, 2015
So those who still think that #TRAi can "handle" the Internet, we just proved you wrong.They just got trolled by bunch of kids.#Incompetence — AnonOpsIndia (@opindia_revenge) April 27, 2015
TRAI has reportedly received over 10 lakh responses to its paper and then in a rather silly move put out all the responses, including email ids on its website.
The comments were divided into three sections- Comments from the Service Providers; Comments from the Service Providers' Association, and Comments from other Stakeholders (which includes the regular folks, tech start-ups, etc.)
Also read: TRAI makes all Net Neutrality responses public, including your email ID
Of course, TRAI's brilliant move has put India's netizens at the risk of spam. As we noted, transparency is fine, but ignoring user privacy is simply not acceptable as it has happened in this case, especially as email nowadays is linked to many social media accounts liked Twitter, Facebook, Linkedin and even banks.
While TRAI's move was no doubt damaging, Anonymous has also defended its move to bring down the site saying that this was done to deny spammers access to the 1 million email ids.