[ad_1]

PROVO — Researchers are asking for help to track elusive flashing fireflies in Utah.
There are two known flashing firefly populations in the state, but researchers from Brigham Young University and the University of Utah have teamed up with the hope of finding more. They recently launched a website to collect citizen reports.
"It turns out there have been fireflies in Utah for probably 50-plus years that people have known about for sure — probably longer," said BYU biology professor Seth Bybee. "Now what we're trying to do is get Utah citizens involved to actually go to a website to report when and where they saw them, and put a little dot on a map for us so that we can map their distribution."
Anyone can visit the website, which is hosted by the Natural History Museum of Utah, and report details like the flash patterns and sighting times. They can also drop a pin on a Google Map to share the exact location of their sighting.
Tracking the data patterns will help researchers understand the distribution of fireflies and find new populations. The overall project goal is to determine whether there is a new firefly species in Utah, or even whether there are genetic differences between different populations within the state.
One of the known firefly populations is in Nibley, near Logan, at the GPS coordinates 41.689702,-111.854804, according to Bybee. He said the best area is in a wetland area near Goshen Pond, located at 39.962447,-111.855691. The fireflies have been spotted in Goshen as early as the first week of May and as late as the beginning of July, with the peak season occurring towards the end of May.
Fireflies tend to light up around 9:30 p.m., but the time varies by species. Bybee said there are actually five or six species of firefly in Utah, but only two are known to flash. Of the two, researchers have only been locate one species so far because they aren't sure when or where to find the other.
While researching fireflies in Utah, Bybee's team has collected numerous anecdotal accounts of firefly sightings. A 2012 spotting in Spanish Fork drew news coverage, but Bybee said farmers and ranchers have shared stories of seeing elusive fireflies 50 years ago when they were bailing hay as children.
"We've gone and checked and unfortunately a lot of the locations are under houses or there is too much light in the area," he said. "Fireflies are really sensitive to light pollution. When there is a lot of light, because they communicate by flashing, there's not a lot of ability to detect it."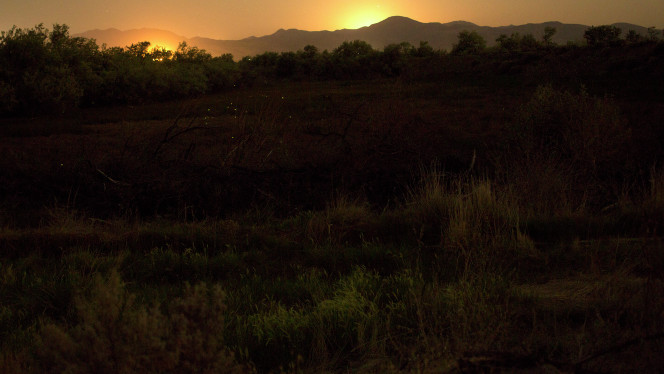 Photo credit: Bradley Slade/BYU
Fireflies are a type of beetle and feed on snails and slugs in aquatic environments while larvae. Bybee said it is possible the firefly populations fluctuate from year to year depending on how wet it is, but they haven't known about the local populations long enough to track the patterns yet.
Around the world, there are about 2,000 different species of firefly, according to Bybee. He is working to create phylogenetic trees — which he described as being genealogy for insects — for fireflies and has traveled to Africa, Asia, Australia and South America for the research.
"We're essentially working on the tree of life for fireflies," he said.
Bybee said it can be especially fun for those who want to contribute to the Utah research to watch for flash patterns and colors. Some firefly species have a rapid flash with a brief pause, while others will make a "J-shape" in the air. The fireflies also use different colors to communicate, like orange, green or yellow.
[ad_2]

Source link